The "LATARJET" procedure for Shoulder Instability.
INSTABILITY means that the shoulder dislocates completely (dislocation) or partially (subluxation).
The "LATARJET" procedure is a surgery in which a piece of bone is taken off from a structure called "CORACOID Process", and is attached to the rim of the socket (glenoid) of the shoulder joint.
It is necessary when the dislocations have irreversible damaged the socket, and a part of the socket bone has eroded away. This is called :SIGNIFICANT BONE LOSS"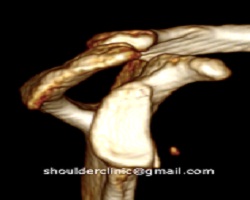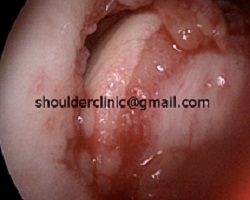 1. CT scan shows bone loss on the socket
2. Arthroscopic view shows the ball slipping over the socket due to severe bone loss
WHY IS THE LATARJET PROCEDURE NECESSARY FOR BONY LESIONS ?
If there is bone loss from the edge of the socket, or a large Hill-Sachs lesion (groove in the head of the humerus) the problem becomes more mechanical – referred to as an "engaging lesion" and will not be adequately treated by simply repairing the ligaments as in the Bankart procedure. The Latarjet procedure needs to be done, and simply repairing the ligaments will not suffice.
The coracoid, a bony outgrowth next to the joint is released and screwed on to the bony defect to fill it. The sling effect of the transferred tendon which is attached to the coracoid also plays a major role in achieving stability.
This is a highly successful procedure for those few cases that need it. This operation often becomes indicated in contact sportspersons (who frequently suffer bony lesions with their dislocations during the trauma they sustain during their high impact activities) and they will usually be able to return to their previous sport at the same level following this procedure.
It is important to note that one of the most common reasons for the Bankart procedure to fail and the patient remaining with instability is the bony lesion not recognized and addressed by the surgeon. In such a case of failed surgery the Latarjet procedure will often rectify the problem
This procedure can be performed OPEN or ARTHROSCOPIC. This article describes the ARTHROSCOPIC LATARJET procedure.
THE "ARTHROSCOPIC LATARJET" PROCEDURE:
Dr Deepak Bhatia's technique is PERFORMED ARTHROSCOPICALLY (KEYHOLE) as a DAY-CARE procedure. The entire surgery is performed through tiny keyholes and no muscles are cut.
The arthroscopic procedure is the ALCS procedure described recently by Dr Deepak Bhatia . This procedure involves 6-7 tiny cuts (portals) in the skin and the bone grafting (Latarjet) is performed endoscopically. Simultaneously, the ligaments are also repaired back (Capsular shift).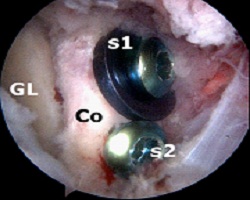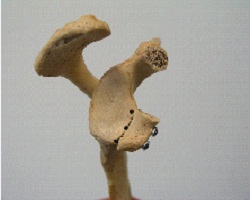 The CORACOID process is attached to the socket using 2 metallic screws.
The ligaments (capsule) are then reattached using tiny "anchors".
The procedure is very cosmetic, and the scars are hardly visible once healed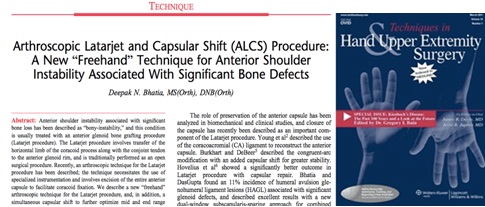 AFTER THE OPERATION:
You may leave the hospital on the same or next day. Pain is usually minimal to moderate. The arm will be in a sling, simply to remind you not to move the arm upwards, backwards or outwards.
Wear the sling at night while sleeping and when going out. At home it may be taken off, but remember the following restrictions:
While facing forwards and moving the arm, the hand should be visible. As soon as you move the hand backwards, out of sight, the shoulder is in a "danger zone", and the repair can be damaged.

These precautions must be followed for 3weeks, after which you will receive further instructions.
The shoulder is usually stiff for a few weeks following the operation but this is common and should not raise any concern
After 3weeks :
With guidance, progressive mobilization and strengthening will now be allowed. Weight training, swimming (breast stroke), etc. will be gradually introduced from 6 weeks onwards.
Return to sport :
Can be allowed soon after this 6-week period, but for contact sports like rugby, and throwing sports like baseball, 3 months and more of rehab may be required.
It is important to avoid injury during the recovery period to prevent pulling out of the screws
Success Rate :
The procedures mentioned above are usually successful to stabilize the shoulder and result in the patient regaining normal function, provided that the operation is tailored to the specific type of instability and is performed with the necessary expertise.

READ DR DEEPAK BHATIA'S SCIENTIFIC PUBLICATIONS ON THIS TOPIC :
1. Bhatia DN. Arthroscopic Latarjet and Capsular shift procedure. Tech Hand Up Extrem Surg. 2014.
2. Bhatia DN, De Beer JF. Management of anterior shoulder instability without bone loss: Arthroscopic and mini-open techniques. Shoulder & Elbow 2011;3:1-7.
3. Bhatia DN, DasGupta B. Surgical treatment of significant glenoid bone defects and associated humeral avulsions of glenohumeral ligament (HAGL) lesions in anterior shoulder instability. Knee Surg Sports Traumatol Arthrosc. 2013 Jul;21(7):1603-9
4. DeBeer JF and Bhatia DN. Shoulder instability in the middle aged and elderly patients: Pathology and surgical implications. International Journal of Shoulder Surgery, 2010;4.
5. Page RS, Bhatia DN. 2010. Arthroscopic repair of a chondrolabral lesion associated with anterior shoulder dislocation. Knee Surgery Sports Traumatology Arthroscopy. 2010 Dec;18(12):1748-51
6. Bhatia DN. 2012. Arthroscopic "Cuff sparing" percutaneous (CUSP) Technique for posterior instability repair in the beach-chair position. Tech Hand Up Extrem Surg. 2012 Sep;16(3):173-9
7. Bhatia DN. 2012. Dual-window subscapularis-sparing approach: A new surgical modification of the Latarjet procedure. Tech Hand Up Extrem Surg. 2012 Mar;16(1):30-6
8. DeBeer JF and Bhatia DN. 2009. Shoulder injuries in Rugby players. Int J Shoulder Surg, 2009; 3:1-2.
9. Bhatia DN, De Beer JF, van Rooyen KS. 2009. The Subscapularis - sparing approach: A new mini-open technique for repair of the HAGL lesion. Arthroscopy 2009;25(6): 686-690
10. Page RS, Bhatia DN. 2009. Arthroscopic HAGL repair: Anterior and posterior techniques. Techniques in Hand and Upper Extremity Surgery 2009;13(2), 98-103
11. Bhatia DN, deBeer JF, vanRooyen KS, duToit DF. 2007. The "Reverse Terrible Triad" of the shoulder: Circumferential glenohumeral musculo-ligamentous disruption and neurological injury associated with posterior shoulder dislocation. Journal of Shoulder and Elbow Surgery. 2007; 16(3): e13-17.
12. DN Bhatia, JF DeBeer. 2012. The Cape Town Approach for Latarjet Procedure: Is There a Benefit to Flip the Bone Block? In: Shoulder Concepts 2012 Ed. P Boileau. Sauramps Medical Publisher. Pg 71-74
13. DN Bhatia, JF DeBeer, DF Dutoit. 2008. Coracoid process anatomy: Implications in Latarjet procedure. In: Shoulder Concepts 2008, Arthroscopy and Arthroplasty. Ed. P Boileau. Sauramps Medical Publisher. Pg 63-78.
14. DeBeer JF and Bhatia DN. 2009. Shoulder injuries in Rugby players. Int J Shoulder Surg, 2009; 3:1-2.